Design Plans with cut sheet

Choose Your Vehicle's Make:
Each set of plans is designed for the Novice Do-it-yourself'er
CUSTOM FIT - EASY TO BUILD
Shipped by U.S. Mail, or Email, your choice.
1995-2005 Chevrolet Cavalier &
2005-2010 Chevrolet Cobalt
1-12" subwoofer, 35 1/2" wide box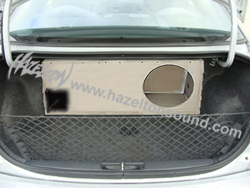 ***THESE ARE ONLY PLANS TO BUILD YOUR OWN SUBWOOFER BOX - NO PARTS INCLUDED***
(I have the box parts & tools available for sale as well, check out the Box Parts/Tools link)
Most of the designs only require a drill (with bits), jig saw, & caulk gun, for tools to complete the projects.
A novice woodworker should be able to complete the project in 1-2 days, with dry time.
*Most of the wood can be cut to size at one of the large chain lumber retailers who has a panel saw on site.
This helps in hauling the wood home too!
I will not create any plans for a box with any angles at all, these are all intended to be, easy to build designs.
Check out the Customer Gallery